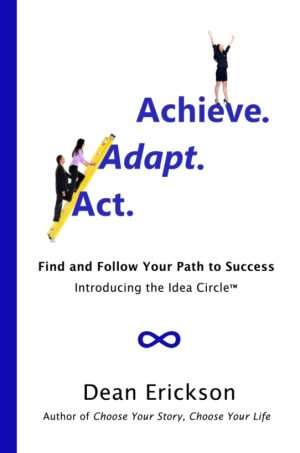 Introduction from Act. Adapt. Achieve.
"This is a book about taking action to achieve your desired success—whatever it may be. Now is the time for you to create a new job, your own company, better relations with a child, more overall happiness, and anything else you want.
Too many people hope for success more than they plan and work for it. Rather than simply hoping "the universe will provide," know that you already have everything you need to achieve success. You just have to accept responsibility and use what you already possess.
Break away from whatever has been holding you back. You may be afraid because you're not sure how to get started. And, if you don't start, you're already finished. This book is about starting, finishing, and getting whatever you want—even if it turns out to be better than what you'd first imagined."
Author Dean Erickson reveals tools and techniques to help you learn how to achieve success consistently. Learn how to achieve your dreams and reach your greatest potential with his new book, Act. Adapt. Achieve. Building upon his previous work, Choose Your Story, Choose Your Life, he encourages you to live your best life, this time by guiding you to take necessary actions to achieve your goals and by empowering you to adapt when things do not go as planned.
I wrote Act. Adapt. Achieve. because I wanted to help people live happier, more successful lives and reach their potentials. More than hoping and wishing, success requires action, adapting to feedback, and then acting again and again until your goal is achieved.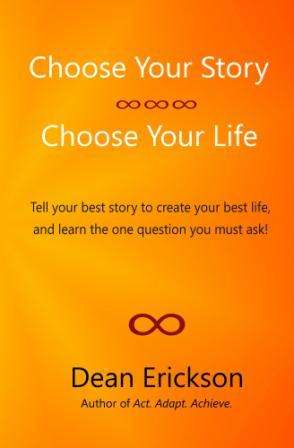 Foreword from Choose Your Story, Choose Your Life
As a physician and wellness practitioner, I meet many people who suffer physical illnesses resulting from living lives that are not fulfilling. They need to make changes but lack a plan for making lasting change in their lives.
What struck me as refreshing about Choose Your Story, Choose Your Life is its rare honesty, so let me be equally honest: if you want to be coddled and told you can get what you want without doing the work that causes that result, this isn't the book for you.
There are many self-help books on the market today that claim to be a remedy for what ails us; lots of discussions about the pressures of the modern world, and all the "tricks" we must learn in order to better cope with it. And then there is Choose Your Story, Choose Your Life—a book that tells you what you need to hear, not just what you want to hear. No more wishing, no more excuses.
This deceptively brief "life guide" (my phrase, not the author's) goes beyond the simple recognition phase of improving one's life and takes you to the most important step—the one that makes the difference. It shows you how to rethink, rebuild and live the story of the life of your choosing.
Dean talks about his book, Choose Your Story, Choose Your Life and discusses how "Choosing Your 'A' Story" can help you live your best life and positively impact your personal economy.
No One Laughs at a Dead Clown
The setup:
When an amusement park clown is strung to pilings under the San Margarita Pier, a deadly message is sent. Then all hell breaks loose for aging surfer dude Razz McNeil, manager of the Surf's Up Saloon when he becomes entangled in the subsequent murder investigation. But who sent the macabre message? And why?
Click here to learn more about Dean's murder mystery novel, No One Laughs at a Dead Clown.